Great Canadian Casino Resort Toronto Opens Up in Summer 2023
Great Canadian Entertainment has some exciting news to share with gamblers in Ontario. Canada's biggest casino resort is set to open its gates in summer 2023 at the intersection of Highways 401 and 427 in Toronto. The total cost of the Great Canadian Casino Resort will amount to C$1 billion, and will include a 400-room hotel, a 5000-seat live show venue, a new parkade and other perks in a total area of 33 acres. The casino's theme will resemble Las Vegas, and it will be close to the Woodbine Racetrack, which will not affect the operation of Casino Woodbine.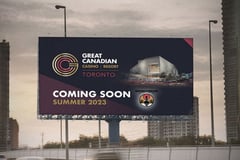 Great Canadian Entertainment launched in 1982 and ranks among the largest gaming, leisure and hospitality operators across Canada, with 25+ venues in British Columbia, Ontario, Nova Scotia and Brunswick.
GCE promises top-notch gambling entertainment
According to the CEO at Great Canadian Entertainment, Matthew Anfinson: "We see this as an unprecedented opportunity to introduce an entirely new, world-class experience in Canada that will bring together the best in casino gaming, exceptional live entertainment, dining, and accommodation in one very special place. We are very excited to reveal more about what this landmark destination will feature and what our guests can expect in the coming weeks, including the announcement of an opening date. This project has been several years in the making, and we are thrilled that we are close to bringing it to life."
The company has big plans for the Toronto area as in July 2021, it opened the Pickering Casino Resort, with 275 premium guest rooms. In the fall of 2022, it launched land-based sports betting at 10 of its venues in Ontario.
Extra bonuses for Ontario players
The company rolled out the Great Canadian Rewards program in August 2022, which proved to be highly successful. By joining this program, you get discounts when booking hotel rooms, redeem points for restaurants and gaming credits.
Moreover, GCE plans to boost its responsible gaming scheme in cooperation with Ontario Lottery and Gaming (OLG). At the Toronto venue, a PlaySmart Centre will be installed. This is so players can keep track of their gaming activity and provide them with features and tools to keep gambling as a healthy and entertaining habit.
Join our exclusive email newsletter for the very latest offers, news & promotions
Unsubscribe at any time. We promise we are spam free and we will never share your details with a 3rd party.