Intralot and BC Lottery partner up for a sportsbook deal
The British Columbia Lottery Corporation (BCLC) and Intralot Inc., the US subsidiary of Intralot, signed a three-year deal that will supply the operator with the Intralot Orion sportsbook platform. The deal, which also has three annual extensions, will include Photon X retail terminals and GameStation self-service terminals, to launch with the BCLC sports betting product this winter.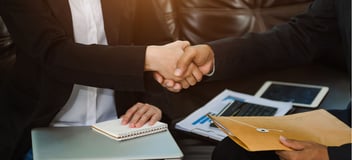 Moreover, the terminals that will begin operation this winter, will also offer lottery games. Intralot has integrated into the platform the BYOD (Bring Your Own Device) solution, which allows players to view all betting services, generate QR codes and prepare digital betslips from anywhere before scanning them at one of the terminals.
Intralot focuses on the BC market
After the partnership news went public, Nikos Nikolakopoulos, Chairman of Intralot Inc.'s Board of Directors, released the following statement: "We are excited to extend our partnership with BCLC in the sports betting sector. We are looking forward to a close cooperation with the lottery in order to provide an enhanced retail player experience and responsibly drive the lottery's growth to further benefit the British Columbia community."
Intralot's sportsbook is expected to be available this winter in more than 700 self-service terminals and 3400 clerk operated terminals across British Columbia.
British Columbia to become a center of online gambing
Wagering on sports became legal in Canada in August 2021, and BCLC added a sports betting platform to its PlayNow site, with some limitations due to the focus on the lottery. The deal with Intralot is expected to break any barriers and make BCLC's sportsbook one of the best available on the North American market. While the market is not as developed as Ontario, pundits see huge potential and many operators are eyeing a local license.
Intralot, which entered the Canadian market in 2019, has also launched online gambling products in several US states like Ohio, Illinois and the city of Washington D.C. The Greek gaming solutions supplier is listed on the Athens Stock Exchange and operates in 40+ regulated jurisdictions around the world.
Join our exclusive email newsletter for the very latest offers, news & promotions
Unsubscribe at any time. We promise we are spam free and we will never share your details with a 3rd party.