Ontario fines three operators for violating its "game integrity" standards
The Registrar of the Alcohol and Gaming Commission of Ontario (AGCO), has issued fines totalling over $70,000 to three online casinos for violating its game integrity regulations. The three operators, Bunchberry (ComeOn brand), LeoVegas and Mobile Incorporated (Conquestador brand), received Notices of Monetary Penalty for breaching Standards 4.08 and 4.09, since they offered games that have not been certified by an Independent Testing Laboratory (ITL) registered by the Registrar, or approved by the Registrar.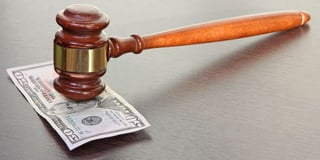 AGCO's main aim was to protect province citizens from gambling-related harm. On that note, all licensed casinos must run games tested and certified by the authority. The fined operators have the right to appeal to the Licence Appeal Tribunal (LAT).
Unlicensed games lead to penalties
LeoVegas was fined $25,000 for providing games that were unlicensed by the AGCO Board Guidelines and violated Standards 4.08 and 4.09. Bunchberry Limited committed the same infractions and also violated the Board Guidelines which led to a $15,000 penalty. Mobile Incorporated also breached Standard 1.22 for offering games developed by software providers not registered with the AGCO. The result was a $30,000 fine, the biggest of the three.
It is not the first time that the AGCO issues fines to operators. In May 2022 it did the same to BetMGM and PointsBet for advertising infractions. The former received a $48,000 penalty for advertising issues, while the latter got a $30,000 penalty for a similar breach. Unibet and Draftkings have also received stern warnings from the authorities.
AGCO will uphold its high standards
Tom Mungham, Chief Executive Officer and Registrar at AGCO stated: "AGCO holds all registered operators to high standards of responsible gambling, player protection, and game integrity and monitors their activities in the interest of Ontarians. A critical feature of our regulatory framework requires operators to only offer games that are from registered gaming suppliers and have been certified by an AGCO-registered independent testing laboratory to meet the highest standards of game integrity. Ontarians who choose to play on registered sites need the assurance that the games being provided meet these requirements."
Join our exclusive email newsletter for the very latest offers, news & promotions
Unsubscribe at any time. We promise we are spam free and we will never share your details with a 3rd party.